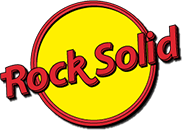 For this week's Client Spotlight, we had the pleasure of chatting with Zach Morrow
of Rock Solid Custom Granite located in Littleton, Colorado.
PLEASE TELL US ABOUT ROCK SOLID CUSTOM GRANITE:
Rock Solid Custom Granite offers custom, solid surface countertops. We have been in business for over 14 years and have over 55 5 star reviews on Google+. Our custom granite countertops are offered at competitive prices that everybody can afford. We are located in Littleton, Colorado, and service the entire Denver Metro area, as well as many other areas in the state of Colorado.
HOW WAS ROCK SOLID CUSTOM GRANITE FOUNDED?:
This business was my first job right out of highschool. I was offered the position through my brother, Jake and have been here ever since! The company has had an extensive amount of experience in the construction and granite industries, and we pride ourselves on providing an experience that is as easy and streamlined as possible.
WHAT WAS SPECIAL ABOUT THE PROJECT WE PROVIDED MATERIAL FOR?:
I created a feature wall out of the back planed gray/brown barn siding in my personal home. This wood product made my entire living room and dining area extremely unique. The barn siding works perfectly with the large antique clock and provides an overall focal point that definitely grabs attention.
WHAT DO YOU ENJOY MOST ABOUT WORKING WITH RECLAIMED DESIGNWORKS?
The way your products are cut and processed eliminates waste and provides a great fit for any project.
ANY FUN FACTS ABOUT YOUR COMPANY?:
At Rock Solid Custom Granite, we can assist you with finding the right contractor(s) to help complete your custom granite counters project in an affordable and timely manner, steering you in the right direction and connecting you with other reliable contractors that you may need on your project. There is no need for you to search all over and spend countless hours looking for the right person with the perfect credentials. We have several remodel contractors, cabinet shops, tile installers, plumbers, electricians, and even painters that can help make your granite counter project a breeze. We have worked with them for years and are confident that you will receive the quality you expect. We are excited to be expanding our business even further that this by opening a shop in Durango, Colorado this upcoming spring. Watch out Western Slope!
Please make sure to follow Rock Solid Custom Granite on their Facebook Page!
Thanks again to Zach Morrow for chatting with us!