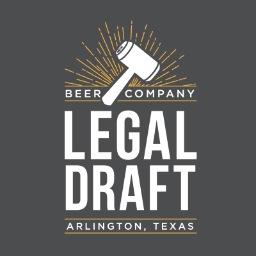 For this week's Client Spotlight, we had the pleasure of chatting with Greg
McCarthy of Legal Draft Beer Co. in Arlington, TX.
PLEASE TELL US ABOUT LEGAL DRAFT BEER CO.:
Legal Draft Beer Company is located in Arlington, Texas and was founded in the summer of 2016. We make great beer, led by our German-born and German-trained brewmaster.
HOW WAS LEGAL DRAFT BEER CO. FOUNDED?:
North Texas, and Arlington in particular, don't have nearly the number of craft breweries this area will support. We saw a great opportunity to serve a growing demand and be a part of revitalizing downtown Arlington.
WHAT WAS SPECIAL ABOUT THE PROJECT WE PROVIDED MATERIAL FOR?:
The reclaimed wood we bought was used to cover wall space in our brewery taproom. Most of the surfaces are concrete, steel, or other metal, and the wood helped to soften the look and feel of the place.
WHAT DO YOU ENJOY MOST ABOUT WORKING WITH RECLAIMED DESIGNWORKS?:
The people at Reclaimed DesignWorks were easy to work with, and the product arrived on time and in good shape.
Please make sure to follow Legal Draft Beer Co. on their Facebook Page!
Thanks again to Greg McCarthy for chatting with us!