For this week's Client Spotlight, we had the pleasure of chatting with Karen Parks who told us a little bit about Associate Interiors based in Dallas, TX.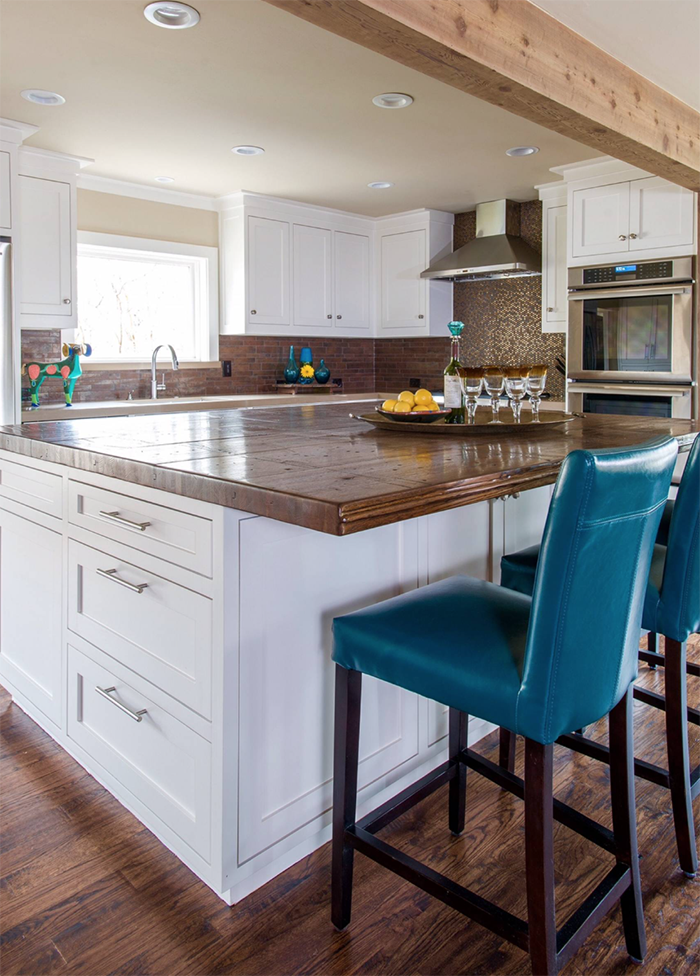 PLEASE TELL US ABOUT ASSOCIATE INTERIORS:
Karen Parks, ASID, Principal, TX registered interior designer. Associate Interiors celebrated its 27th year in business, April of 2017. Our design studio is conveniently located at Snider Plaza, close to the SMU campus.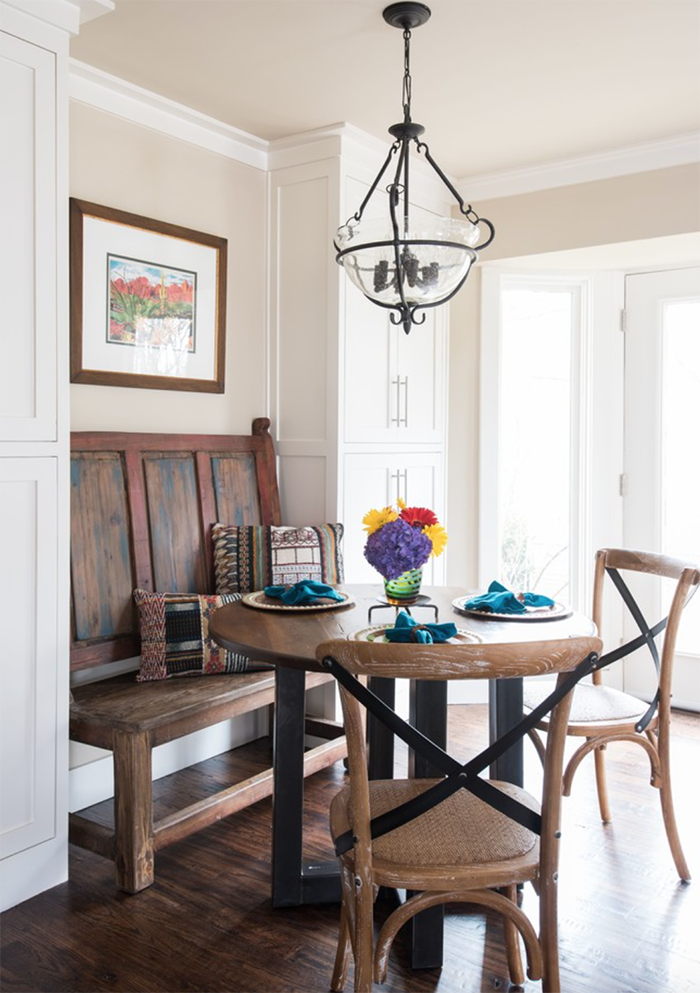 HOW DID YOU GET STARTED IN THE BUSINESS?:
Associate Interiors' primary focus for 18 years was model home merchandising. When the bottom fell out of the housing market in 2008, it was time to re-invent the company. Through relationships with local builders and remodelers, the design business veered toward comprehensive design services. Space planning, making selections and specifications for new home construction and renovation projects became the new focus. In addition, we also provide our clients with home furnishings from to furniture to art and accessories.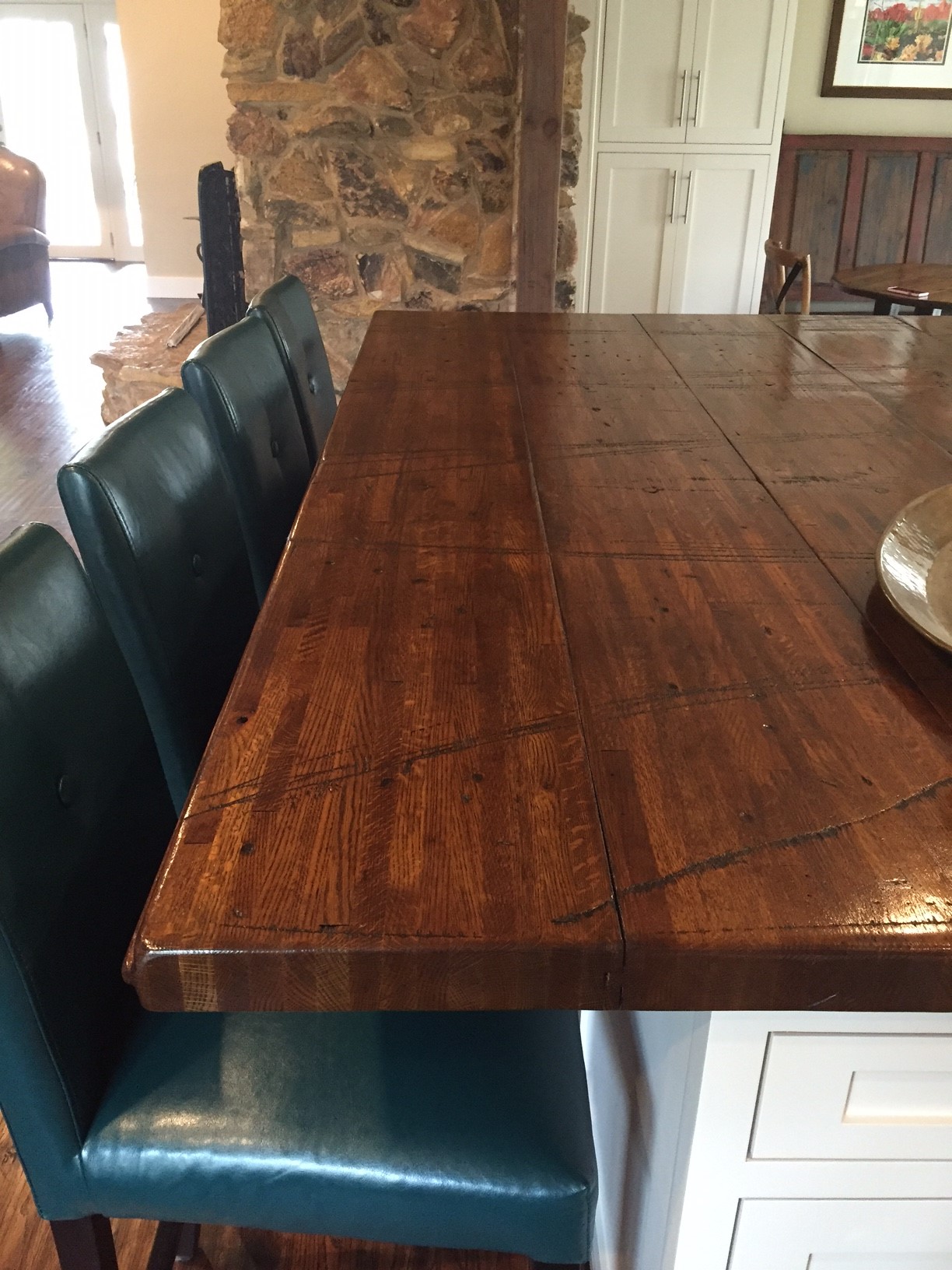 WHAT WAS SPECIAL/UNIQUE ABOUT THE PROJECT RECLAIMED DESIGNWORKS PROVIDED MATERIAL FOR?:
Project: Dugan Kitchen, 2017. ASID Design Ovation, 2nd Place winner for the category: Kitchen under $50,0000.00.

Project Description: This small, dark 70's Kitchen with its peninsula countertop was not conducive to today's lifestyle. Cabinet space was at a premium and prep space was tight for this family of four in their 2,472 sq. ft. home. With 3 different ceiling heights converging at various angles, it was difficult to determine how to increase the kitchen footprint. Removing walls allowed square footage for an oversized island. The homeowners also have a passion for re-cycling. Transit planks from an old railcar, 96" long x 2" thick x 12" wide, were re-purposed to create an island top. The husband built it in his garage during construction by using the tongue and groove planks. The groove was left exposed on one side of the island. The planks are extremely durable and dense due to their years of service as flooring in a rail car. The island is now the gathering spot for family and friends when entertaining.
Much needed, additional pantry storage space was added in the Breakfast Nook. It also created a cozy nook for a custom made bench fashioned from an old Mexican door. The original "crusty" red paint finish on the door adds to the charm of the bench and provides a spot of color along with the turquoise bar stools at the island. The husband re-purposed their rectangular table by cutting the top down to 42" in diam. and replaced the legs with a custom iron base to better suit the space.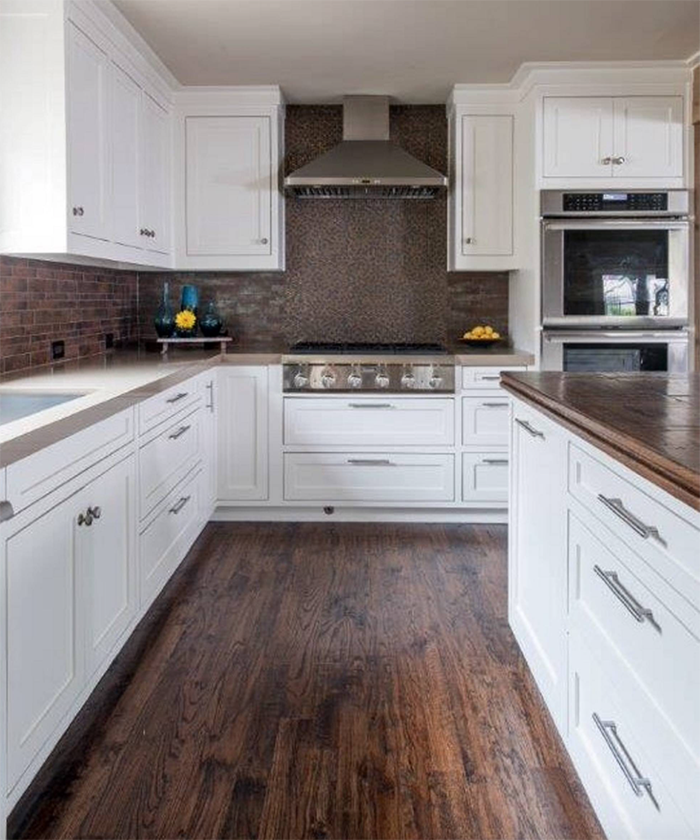 WHAT DO YOU ENJOY MOST ABOUT WORKING WITH RECLAIMED DESIGNWORKS?:
Great customer service. Holly from the Dallas location helped me brainstorm the project. I love that RDW breathes new life into antique and vintage building materials.

PLEASE NAME ONE INTERESTING FACT ABOUT ASSOCIATE INTERIORS:
We create functional interiors where people live, work, and PLAY…..casual, livable surroundings for raising families and entertaining friends. One of our strong points is creating a lifestyle for our clients, not just completing their interiors. We enjoy working with clients who appreciate repurposing the Earth's resources.
Giving Back: Karen and her husband Roger have been Core volunteers for Habitat for Humanity since Aug. 2008. My husband and I have participated in the building of 46 homes in numerous communities in south and east Dallas. I am an expert in window and siding installation and can operate a Hilti nail gun! Habitat provides affordable homes for the working poor by offering a hand up not a hand out. We are proud to be associated with this worthy cause.

Please make sure to follow Associate Interiors on their Houzz Page!
Thanks again to Karen for chatting with us!

Associate Interiors
Dallas, Texas
(972)907-9604 | [email protected]
http://associateinteriors.net