ENGINEERED FLOORING
What sets our engineered flooring apart from others is that our wear layer is very thick – over an eighth of an inch of solid wood – giving you added value, plank durability, while allowing for surface features not previously available with this type of flooring.
When working with a wide plank flooring project, the amount of choices can sometimes be overwhelming. From the variety of collections to the different characteristics of wood species, the possibilities are endless. There is also the decision of ordering a solid or engineered hardwood product. Engineered hardwood definitely has its perks – it offers versatility and beauty in a real wood flooring product.
We offer most of our flooring lines in an engineered plank option. If you already know engineered flooring is the right choice for you, give us a call or let us quote your next project. If you aren't sure, please read on to learn more.
ENGINEERED FLOORING. WHAT IT IS AND WHAT IT IS NOT.
We've encountered several preconceived notions about engineered flooring. We'd like to tell you what it really is – and isn't.
AN ENGINEERED FLOOR IS REAL WOOD!
When people hear "engineered floor", sometimes laminate floors such as Pergo or vinyl wood come to mind. Laminate floors are normally constructed from compressed MDF or polymer-based materials. This allows companies to offer laminate flooring for very low costs, but quality and beauty are comprised.
True engineered wood floors are comprised of 100% real wood - both in its solid veneer and layered plywood core. A well-manufactured engineered floor is constructed by adhering a veneer (solid wood wear layer) of the desired specie over a 7 to 9-layer plywood core. The solid wood wear layer is a layer of beautiful solid hardwood of your choice. The plywood core makes engineered flooring extremely stable and allows for installation in areas where a solid wood floor is not recommended. After final installation, there is virtually no difference in appearance between a solid or engineered hardwood floor, which brings us to our next point.
ENGINEERED FLOORS LOOK THE SAME AS SOLID HARDWOOD FLOORS
Since both products share a solid, hardwood top layer, they're virtually identical in appearance once installed. Each can be installed as unfinished planks for sanding and finishing on-site, or as pre-finished planks ready to install when they arrive. In addition, their top wear layer virtually has the same thickness, allowing either to be sanded or refinished several times. With correct installation and basic care, both solid and engineered wide plank flooring can last 100+ years.
WHEN IS ENGINEERED FLOORING THE RIGHT CHOICE?
If you are trying to decide between a solid wide plank floor or an engineered wide plank floor, there are several factors that come into play.
Installation location is key:
Where you install your floor matters - quite a bit actually! The location of your installation typically falls into three categories.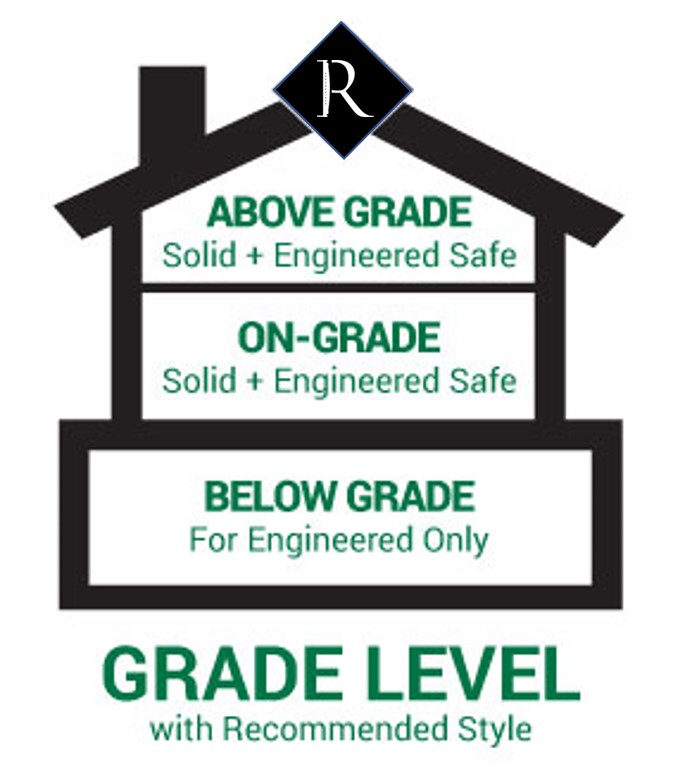 Above-grade: Second-level living spaces or a surface that have a level below.
On-grade: Living spaces built at ground level or down to four inches below ground level.
Below-grade: Any living space that is four inches below ground level, such as basements or split-level living rooms.
Solid flooring is built to be suitable and installed in any above-grade level. It is also acceptable in on-grade installation as long as there is another living level below the intended installation space. For all below-grade installations, or on-grade levels with no basement, we recommend that you install an engineered floor.
Project Location is also key:
Is your hardwood flooring area susceptible to moisture or extra humidity?
If so, engineered is for you. Engineered wood flooring can withstand changes in temperature or moisture that fall outside of the normal levels adequate for solid wood flooring. An engineered floor is also far more resistant to dryness, and moisture and temperature changes related to climate or the subfloor material. (ex: over concrete subfloors)
Subfloor type:
Engineered flooring is the right choice for installation over concrete subfloors, as well as your standard OSB, plywood or other wood-based subfloors. A solid floor is not recommended for installation directly over concrete.
Radiant Heat:
Although either our solid or engineered flooring lines can be successfully installed over radiant heat, we often recommend our customers to purchase engineered flooring for this task. Again, since the final appearance of our engineered wood floors mirror our solid line, it's always better to give yourself the added versatility and stability gained from the plywood core.
WHAT MAKES OUR ENGINEERED FLOORING BETTER THAN THE REST?

Long Lasting Wear Layer
We include more attributes of a solid floor into our engineered manufacturing process, such as the thickness of the solid hardwood wear layer. Our solid flooring line typically has a 6-7mm wear layer of solid wood above what is considered to be its core. Where most engineered floors have a 1-2mm wear layer of wood, our engineered line has a thick, 4mm of solid wood wear layer. This not only gives you a better value of actual hardwood product, but also allows us to include more natural elements such as knots, textured surfaces or natural checking.
Thicker and Better Plywood Core
You also get the advantage of plywood-core stability and versatility with the beauty and wear capabilities of our solid line. Our engineered flooring is made atop an 8-ply core of Russian Baltic birch, the strongest plywood in the industry. We also stack the plywood in a cross-grain configuration that minimizes flooring expanding and shrinking.
MORE OPTIONS
We offer wider widths, longer lengths, and more species to choose from than our competitors. Our engineered flooring comes in widths from 3" to 12" and lengths of 2' to 12' in many species. This isn't an easy process to achieve and we're very proud to be among a few who can offer it.