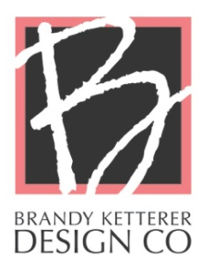 For this week's Client Spotlight, we had the pleasure of chatting with Brandy Ketterer of Brandy Ketterer Design Co.


PLEASE TELL US ABOUT BRANDY KETTERER DESIGN CO.:
I am truly a full service design company focusing on areas from concept development, to space planning and project management, and of course furniture, art and accessories. I began Brandy Ketterer Design Co. in 2004 after a long career as a commercial interior designer, doing mostly corporate office and airport projects. Starting this business helped me to transition and focus on residential interiors.
HOW WAS BRANDY KETTERER DESIGN CO. FOUNDED?:
I always had a passion for art and design that grew into a career goal at a very young age; from the time I was in second grade I knew I wanted to be an interior designer. I graduated with a Bachelor of Science degree in Interior Design from Indiana University which is a very strong program that set me on a great path. Initially, I chose to focus on commercial work and I really enjoyed that. In fact, I eventually became a partner at a large design firm. I achieved every goal I set for myself and was doing the exact design work that I always dreamed of doing. But after a few years, the demands of that career along with the demands of motherhood forced me to look at other opportunities in this field. In 2004, I made a huge leap of faith and left a design firm that I loved to try to simplify my life and be a better mother. I began pursuing opportunities in residential work, and to my surprise, I loved it even more. I always enjoyed collaborating with my clients, and drawing unique design concepts out of them that were tailored to their preferences. I find the collaboration process on residential projects to be much more exciting because my clients are more invested in the decisions. Your home is your haven. Residential work is so much more personal. I just love that!
WHAT WAS SPECIAL/UNIQUE ABOUT THE PROJECT WE PROVIDED MATERIAL FOR?:
The DI residence. Where do I start? We are not ignoring one inch of this residence. Attention to detail! Every bit of space is being considered and addressed in this design process. When you tour through this space, I anticipate that every time your head turns left, right, up, or down, there will be something visually interesting that excites. The finish palette will consist of rugged coastal textures and shiplap mixed with elegant crystals, glass and polished metals. The decorative lighting will be a major statement in this home. And this project is a great example of a true collaboration with wonderful clients who are a joy to work with. We are using multiple products from Reclaimed DesignWorks on this job in various applications: Floors, walls, ceilings, and the reclaimed charcoal barn wood will be incorporated into one of the stellar fireplace surround designs.
WHAT DO YOU ENJOY MOST ABOUT WORKING WITH RECLAIMED DESIGNWORKS?:
Most? I don't think I can narrow it to just one thing. I think it would be 3 things:
1. First and foremost, Sarah Vining has been a dear to work with and very knowledgeable. As a designer, I cannot be an expert on absolutely every building material and product, so I always love it when I find industry partners like Sarah who I can count on for sound product knowledge and expertise. And she has also been extremely communicative and responsive to all of our requests.
2. I am very impressed with the array of products available at Reclaimed DesignWorks. Incredible!
3. The showroom is fantastic and a wonderful space to work in. I was on a shopping high when I visited!
ONE INTERESTING FACT ABOUT YOUR COMPANY?:
I have a sign above my desk that reads "My Desk is My Alter". It's been there for years as a constant reminder that everything I do in this business is serving the Lord. He has blessed me abundantly with the creative talents and opportunities to do this work that I love.
WOOD PRODUCTS FEATURED:
DI Residence- Reclaimed Barn Wood & Reclaimed Flooring
Please make sure to follow Brandy Ketterer Design Co. on their Facebook Page!
Thanks again to Brandy Ketterer for chatting with us!